Adventure Want to do guided tours? Go across the road from Mayas Native Garden, where Mario and Jochen and the rest of the Planet Action Team offer a wide range of action and adventure activities. You can go rappelling and river climbing in the mountains, go caving in some of Cebu's many underground caves, horseback riding and much more.. Visit Planet Action Planet Action here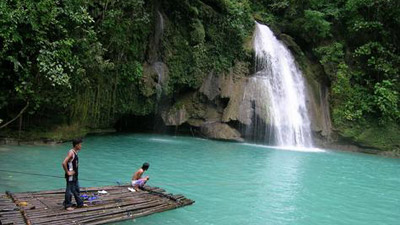 Kawasan Falls A big river, with a series of waterfalls, the first waterfall is the biggest, but following the river will bring you to splendid nature and a wide selection of tropical plants and flowers, maybe even monkeys. Their are nice restaurants near the falls. It a fantastic place for a day out!!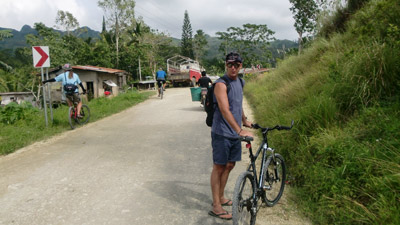 Mountain biking The Moalboal area is excellent for mountain biking, with its flat coastline and amazing mountains, and plenty of single trails, super nature and friendly people around. In Moalboal we have an growing mountain biker community, so you can always find a companion. You can rent good quality bikes at Mayas Native Garden at 300 peso/day. If you need a guide or different bike, see our neighbor Planet Action across the road.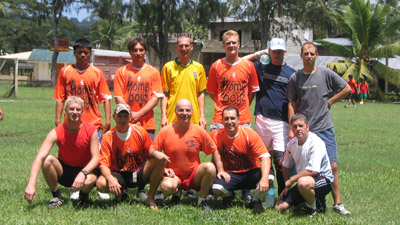 Football In the town of Moalboal in front of the Church, expats and visitors are joining the increasing number of Pinoy players in a 5 -7 aside game. Every Monday & Friday at 4 pm. After the game players go to the local carenderia for a beer and socializing.
White Beach An excellent place to go swimming, snorkeling or relax on the white sand. At the beach their are a few restaurants and sheds with BBQ stands for rent. On the weekend the place can be packed with Filipinos who also enjoy this excellent beach.
Motorbike Cruise around the surrounding scenery, along the coast or drive up and explore the mountains. The bikes for rent are mostly scooters, Honda XRM 125 cc or Motor cross Honda XL200. The rates are around 15 – 20 $ US/day.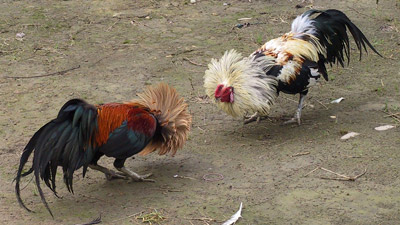 Cock fights Cockfighting in the Philippines is legal and a National sport. It's called "sabong" and is held every Sunday in the Moalboal cockpit. Cockfighting can be a very hard thing to accept, but for Filipinos it's part of the tradition and culture and is normal throughout the country. The cocks are a special breed and are trained and cared for. During the fight the cocks wear sharp razor blades fixed on their legs and the fight is to the death.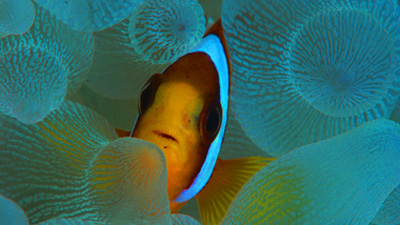 Snorkeling Just 40 meters from Mayas we have an excellent house-reef, where you will find excellent snorkeling and diving, with a wide range of marine life. You are almost certain to get a close look at turtles and you could be lucky enough to see a whale shark passing by. The water is clean, nice and warm. The water temperature is around 27 – 29 degrees Celsius. If you are interested to snorkel different places, the dive shops will bring at a very reasonable price to the dive sites around Moalboal.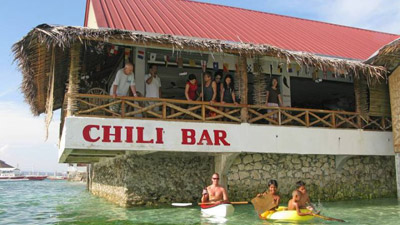 Nightlife Panagsama Beach nightlife is laid back and there are many Bars and restaurants. Some bars have pool tables, like Chilibar, Roxy , Seven Sins & Loyd's Bar. Others offer good atmosphere and cold beer. The restaurants on the beach offer a variety of food, from German schnitzel to sushi. On Saturdays the legendary Pacita Disco fires up for the rhythms, and locals and tourist party all night long.
Golf Cebu International Golf and Resort lies just 12 km away from Panagsama Beach and offers an 18 hole par 72 golf course. The golf course is somewhat secluded from the regular life and is nestled on the wide spread lush greenery of Barangay Lambug in the municipality of Badian in southwest Cebu.