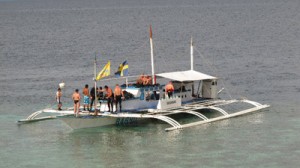 NEPTUNE DIVING ADVENTURE
is an international diving organization that established its roots on the island of Cebu / Philippines in 1994, at Panagsama Beach / Moalboal.  The diving programs were written in chalk on a blackboard in front of the diving school! Since then we have grown into a full-fledged PADI 5 STAR DIVE CENTRE with a successful safari and day trip division, 2 offices in Cebu  and a two story training facility- equipment centre,classrooms, a workshop, filling station and rental equipment. Our head office is still in the same place where we started, 12 years ago. You can not run a diving organization with people who don't dive. NEPTUNE DIVING ADVENTURE trains its own Filipino staff from Open Water to Instructor. This ensures loyal, knowledgeable employees, dedicated to customer comfort and safety. We welcome the dynamic spirit of the diving community in Moalboal / Cebu  because we appreciate challenges, the challenge to anticipate and meet customer needs. We make our customers feel special. You are our customer, we'll make you feel especially good during your diving vacation. Neptune Diving Adventure in Moalboal, Cebu, Philippines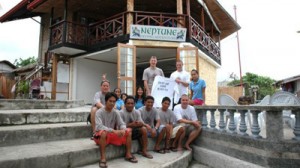 NEPTUNE DIVING ADVENTURE employs one Course Director, Jonas Arvidsson, from Sweden. Jonas has been Course Director for 20 years and was one of the first European Course Directors. Jonas has worked with instructor training in Sweden, Denmark, Finland, England, Cyprus, USA, Thailand and Philippines , and he served as Training Manager and Instructor Examiner for PADI Sweden for 3 years. Jonas is also the one who translates all PADI materials into Swedish and he coordinates all production of PADI material in the Nordic languages. He also has vast experience in running diving operations in Sweden. During 20 years as a Course Director, Jonas has been the owner / manager of diving centres in Sweden, Thailand and Philippines. Jonas belongs to the highly trained, new generation that defines and ensures NEPTUNE DIVING ADVENTURE competitive edge in Instructor Training. His extensive training at PADI headquarters USA puts him in the forefront of our profession; this means that you will receive the latest, most updated information and teaching techniques available in diver training today. His experience in managing one of the first and largest PADI 5 STAR IDC CENTRES in South-East Asia will give you firsthand information about the industry in the 90s. Jonas is in regular contact with the instructors he trained so successfully and supports them with advice whenever they feel the need for it. Bagyo, our boat Moalboal, Cebu, Philippines For diving we use the local banca boat style, Bagyo, is a 65 feet long beauty with a 365 hp engine and a capacity for up to 20 divers, she is the biggest and by far the best diving boat in Moalboal. The crew on the boat are all highly experienced and they will take care of both you and your equipment in the most professional way. The majority of our dive sites here in Moalboal can be reached within 20 minutes. We think that a fast boat coupled with a crew familiar with the needs of divers is an unbeatable combination and a factor often overlooked by our competitors. We have hundreds of satisfied customers who will attest to this! On a normal day our boats are going out four times daily. In the morning at 9:00AM, lunch time at 12:00Noon, in the afternoon at 3:00PM and 7:00PM for a night dive if somebody wishes for this which many people do. Neptune Diving Adventure Inside View Moalboal, Cebu, Philippines We have our own in-house Bauer compressor with an extra filter to ensure clean air at all times and rigorously adhere to (or exceed) local and international laws regarding clean breathing air. Our rental equipment is a complete line of Poseidon gear and CIG and Luxfer Tanks (80cf – 95cf., aluminum). We also offer a comprehensive retail range of dive gear; from regulators, divecomputers, BCD's, fins, masks, snorkels and accessories . . . if you need it, chances are we've got it! We also offer service / check up for all major regulator brands. Our staff have received direct training from regulator and compressor manufacturers so we can provide good service and the correct spare parts.