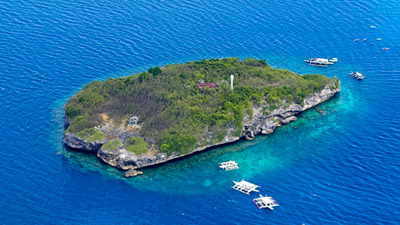 DiveShops
Panagsama Beach has plenty of dive shops. Here we have listed some of the shops:
Neptune Diving Adventure – is the Skandinavia Dive Shop, run by Swedish Jesper who also offers tours to the southern Cebu town of Santander.
Read more about Neptune Diving  Adventure
www.neptunediving.com/
Blue Abyss Dive Shop – is located only 50 m from Mayas Native Garden, it's run by a Swiss/German. Instructor Klemens shoots some amazing video.
Read more about Blue Abyss
www.dvdunderwater.com (Klemens videos)
www.blueabyssdiving.com
Savedra Dive Center – is the largest Dive Center on the beach, it's run by German Karl H. Epp.
www.savedra.com/
Nelson Dive Shop – is one of the oldest dive shops and is run and owened by local Pinoy Nelson Abenido.
Nelsons facebook
http://www.ibara.ne.jp/~bitoon
Ocean Globe (Japanese) – Next to Pacitas Nipa Hut & Mayas Native Garden. www.ocean-globe.com/
Visaya Divers (German) in the Quo Vadis Beach Resort.
http://quovadisresort.com/
All shops offer good and professional services.
Discover Scuba Diving
PADI Open Water Course
PADI Adventure in Diving (Advanced Open Water Course)
PADI Rescue Diver Course
PADI Enriched Air / Nitrox Course
PADI Master Scuba Diver
PADI Divemaster Course
PADI Assistant Instructor
EFR Instructor Course
Diving with Kids
Dive Sites
Moalboal is a well known place for diving. Mainly because of Pescador Island, an Island that rises in the middle of Tañon Strait and offers pristine marine life.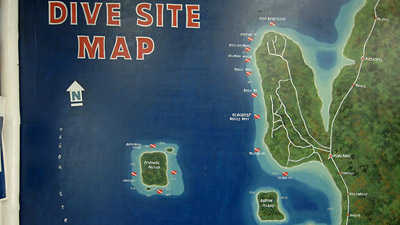 Airport/Umbrella Point
House Reef
Pescador Island
Ronda Bay
Sunken Island
Tuble Reef
Tongo Point
White Beach